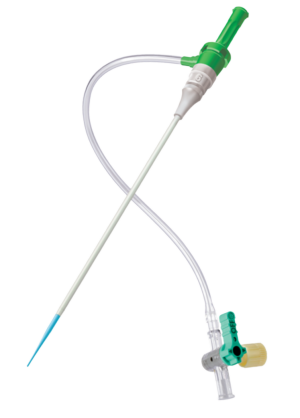 GLIDESHEATH SLENDER® Hydrophilic Coated Introducer Sheath
Unique thin-wall sheath design combined with hydrophilic coating proven to enable
transradial access without compromise
GLIDESHEATH SLENDER® is a preferred solution for many of your patients, especially women with smaller radial arteries.1
The outer diameter of the introducer sheath is reduced by one Fr size with thin-wall technology to maintain larger inner-diameter equivalent.
Optimal sheath-to-artery ratio with the smallest radial Terumo sheath options for procedures requiring 5, 6, and 7 Fr sheaths
Hydrophilic coating may reduce the risk of radial arterial spasm and occlusion2-4
| | | | | | |
| --- | --- | --- | --- | --- | --- |
| PRODUCT CODE | DESCRIPTION | DILATOR | MINI-GUIDEWIRE | NEEDLE SIZE | ACCESS METHOD |
| 60-1050 | A-Kit 5Fr 10cm | 0.021" | Plastic Shortangle 0.021" x 45cm | 22G x 25mm | Double Wall Puncture |
| 60-1650 | A-Kit 5Fr 16cm | 0.021" | Plastic Shortangle 0.021" x 80cm | 22G x 25mm | Double Wall Puncture |
| 60-1055 | A-Kit 5Fr 10cm  | 0.025" | Plastic Shortangle 0.025" x 45cm | 20G x 32mm | Double Wall Puncture |
| 80-1050 | SS Kit 5Fr 10cm | 0.021" | Flex Straight 0.021" x 45cm | 21G x 35mm | Anterior Wall Puncture |
| 80-1055 | SS Kit 5Fr 10cm | 0.025" | Flex Straight 0.025" x 45cm | 20G x35mm | Anterior Wall Puncture |
| 80-1650 | SS Kit 5Fr 16cm | 0.021" | Flex Straight 0.021" x 80cm | 21G x 35mm | Anterior Wall Puncture |
| 50-1050 | NiTi Kit 5Fr 10cm | 0.021" | Nitinol Floppy 0.021" x 43cm | 21G x 38mm | Anterior Wall Puncture |
| | | | | | |
| --- | --- | --- | --- | --- | --- |
| PRODUCT CODE | DESCRIPTION | DILATOR | MINI-GUIDEWIRE | NEEDLE SIZE | ACCESS METHOD |
| 60-1060 | A-Kit 6Fr 10cm | 0.021" | Plastic Shortangle 0.021" x 45cm | 22G x 25mm | Double Wall Puncture |
| 60-1660 | A-Kit 6Fr 16cm | 0.021" | Plastic Shortangle 0.021" x 80cm | 22G x 25mm | Double Wall Puncture |
| 60-1065 | A-Kit 6Fr 10cm | 0.025" | Plastic Shortangle 0.025" x 45cm | 20G x 32mm | Double Wall Puncture |
| 80-1060 | SS Kit 6Fr 10cm | 0.021" | Flex Straight 0.021" x 45cm | 21G x 35mm | Anterior Wall Puncture |
| 80-1660 | SS Kit 6Fr 16cm | 0.021" | Flex Straight 0.021" x 80cm | 21G x 35mm | Anterior Wall Puncture |
| 80-1065 | SS Kit 6Fr 10cm | 0.025" | Flex Straight 0.025" x 45cm | 20G x 35mm | Anterior Wall Puncture |
| 50-1060 | Niti Kit 6Fr 10cm | 0.021" | Nitinol Floppy 0.021" x 43cm | 21G x 38mm | Anterior Wall Puncture |
| | | | | | |
| --- | --- | --- | --- | --- | --- |
| PRODUCT CODE | DESCRIPTION | DILATOR | MINI-GUIDEWIRE | NEEDLE SIZE | ACCESS METHOD |
| 60-1070 | A-Kit 7Fr 10cm | 0.021" | Plastic Shortangle 0.021" x 45cm | 22G x 25mm | Double Wall Puncture |
| 60-1670 | A-Kit 7Fr 16cm | 0.021" | Plastic Shortangle 0.021" x 80cm | 22G x 25mm | Double Wall Puncture |
| 60-1075 | A-Kit 7Fr 10cm | 0.025" | Plastic Shortangle 0.025" x 45cm | 20G x 32mm | Double Wall Puncture |
| 80-1670 | SS Kit 7Fr 16cm | 0.021" | Flex Straight 0.021" x 80cm | 21G 35mm | Anterior Wall Puncture |
| 80-1070 | SS Kit 7Fr 10cm | 0.021" | Flex Straight 0.021" x 45cm | 21G x 35mm | Anterior Wall Puncture |
| 80-1075 | SS Kit 7Fr 10cm | 0.025" | Flex Straight 0.025" x 45cm | 20G x 35mm | Anterior Wall Puncture |
| 50-1070 | NiTi Kit 7Fr 10cm | 0.021" | Nitinol Floppy 0.021" x 43cm | 21G 38mm | Anterior Wall Puncture |
Reference:
Saito S, et al. Cath Cardio Inter. 1999;46(2):173-178.
Rao S, Bernat I, Bertrand O. Euro Heart J. 2012;33(20):2521-2526.
Saito S, Tanaka S, Hiroe Y, et al. Cath Cardio Inter. 2002;56(3):328-332.
Rathore S. JACC. Cardiovascular Interventions. 2010;3(5):475-83.
RX ONLY. The advertisement is directed to physicians only, and not to consumers. Refer to product labels and packaging insert for complete warnings, precautions, potential complications, and instructions for use. Products may not have regulatory approval in all countries. Please contact your local sales representative if you have questions about the availability of products in your area.